VAROSHA
Hope and Empowerment through Education and Opportunity
Support for Farmers (Aranyer Alo)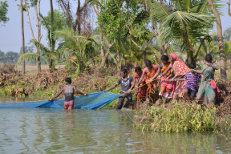 This project is in the villages of Sonakhali and Khulna in the Sunderban, South 24 Pargana West Bengal.

Fallow land and marshes that were not suitable for proper farming were converted by local villagers for fish farming and selective agriculture thanks to our partnership with HVR.

Several plots have been converted to fish farms. New plans and initiatives are in place to convert unused and unproductive lands to be productive. We have distributed seeds and small plants. The raising of small animals: chicken and goats, have been very financially successful for our beneficiaries.